Selling dried flower crafts, jams and jellies, herbal teas, maple syrup, and cbd salves.
New CBD Products for 2021​
Our CBD salve is made with our farm grown CBD hemp buds, infused in a base of organic coconut oil and organic sunflower lecithin. We add organic beeswax to the salves to keep them solid when temperatures rise in the summer. We began selling plain cbd salve in 2020, but for 2021 we have four different salves: plain, with essential oils, with arnica, and with St. John's wort. We use our wild harvested St. John's wort, farm grown arnica, and high quality essential oils, including peppermint, lemon, tea tree, and lavender oils when making the salve.​​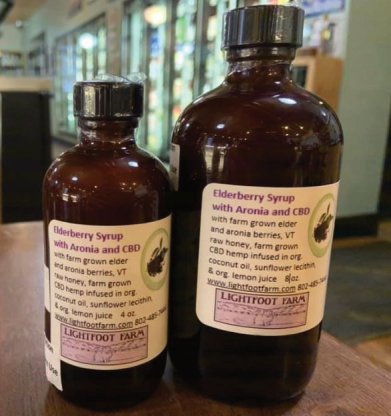 We are introducing CBD products this year.  We have Elderberry Syrup with Aronia and CBD, Full Spectrum CBD Salve, and Full Spectrum CBD Capsules. We make an oil infusion with our farm-grown, high cbd hemp buds and coconut oil and sunflower oil. Our oil infusion can be used directly as a salve, poured into capsules, or added to our fruit syrups. 
Sunflower lecithin allows for faster and better absorption of cannabinoids and may help to increase the effectiveness of CBD. Sunflower lecithin is allergen-free and safer to use than soy lecithin. Lecithin may help to improve memory and immunity to virus and bacteria.
Many companies remove the natural chlorophyll, derived from the hemp buds. We leave the chlorophyll in, as chlorophyll may improve digestion and may help reduce inflammation due to arthritis. 
Our high cbd hemp plants are grown outside, with natural sunlight, wind, and rain, to produce higher quality plants than those grown indoors under grow lights. Our hemp plants are grown in a soil that is enriched with compost and we use organic fertilizers throughout the growing season. Should there be a need to treat our plants for insect or disease, we would use only organic certified products. Our CBD products should not have the residual pesticides and fungicides you might find in other CBD products sourced from non-organic CBD growers.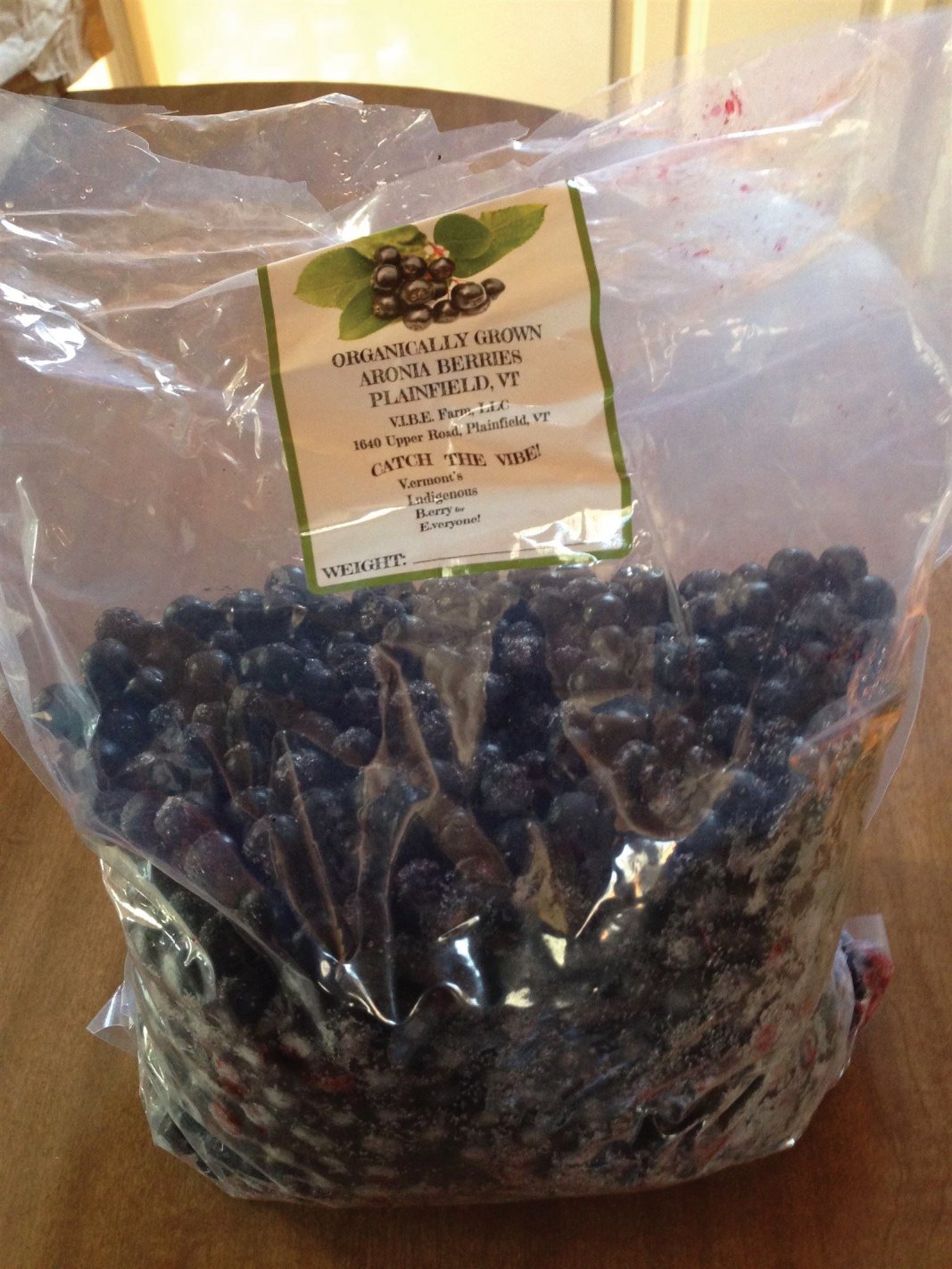 We are now using Aronia berries, organically grown from the V.I.B.E. farm in Vermont) in our elderberry syrup. Aronia berries were shown to have an ORAC score (oxygen radical absorbance capacity) of 16,062 umoles/110 gams. as compared to 9,584 for cranberries and 6,552 for blueberries. ORAC scores relate to the level of antioxidants in the berries. We lightly cook the aronia berries just to pasteurize them. This increases the shelf life of our syrup while ensuring that ORAC level  stay as high as possible. ORAC scores are decreased when berries are cooked. We use a ratio of 1 part aronia berries to 5 parts elderberries for our syrup. By combining the aronia with elderberry we are increasing the potency of our syrup. Our Lightfoot Farm Elderberry Syrup with Aronia Berries is available at the Falls General Store in Northfield Falls, VT.
Elderberries contain cyanide, which is poisonous. We cook our elderberries for 10 minutes to release the cyanide as gas, while ensuring that the least amount of cooking as possible is used. This prevents drastic decreases in antioxidant levels. Many other recipes call for cooking the berries for 45 minutes to one hour. It was reported on www. ehow.com that elderberries only have to be boiled for a few minutes to release the cyanide.
We also use only raw Vermont honey in our syrup. Raw honey has the best effect towards increasing immunity levels of the human body.  We heat the honey to no higher than 110 degrees F. to dissolve the honey into the fruit juice mixture in order to maintain the immune boosting integrity of the honey.
Our elderberry syrup is not subjected to high levels of anti-oxidant destroying heat to seal the lids, as some other manufacturers do. Therefore our syrup requires refrigeration.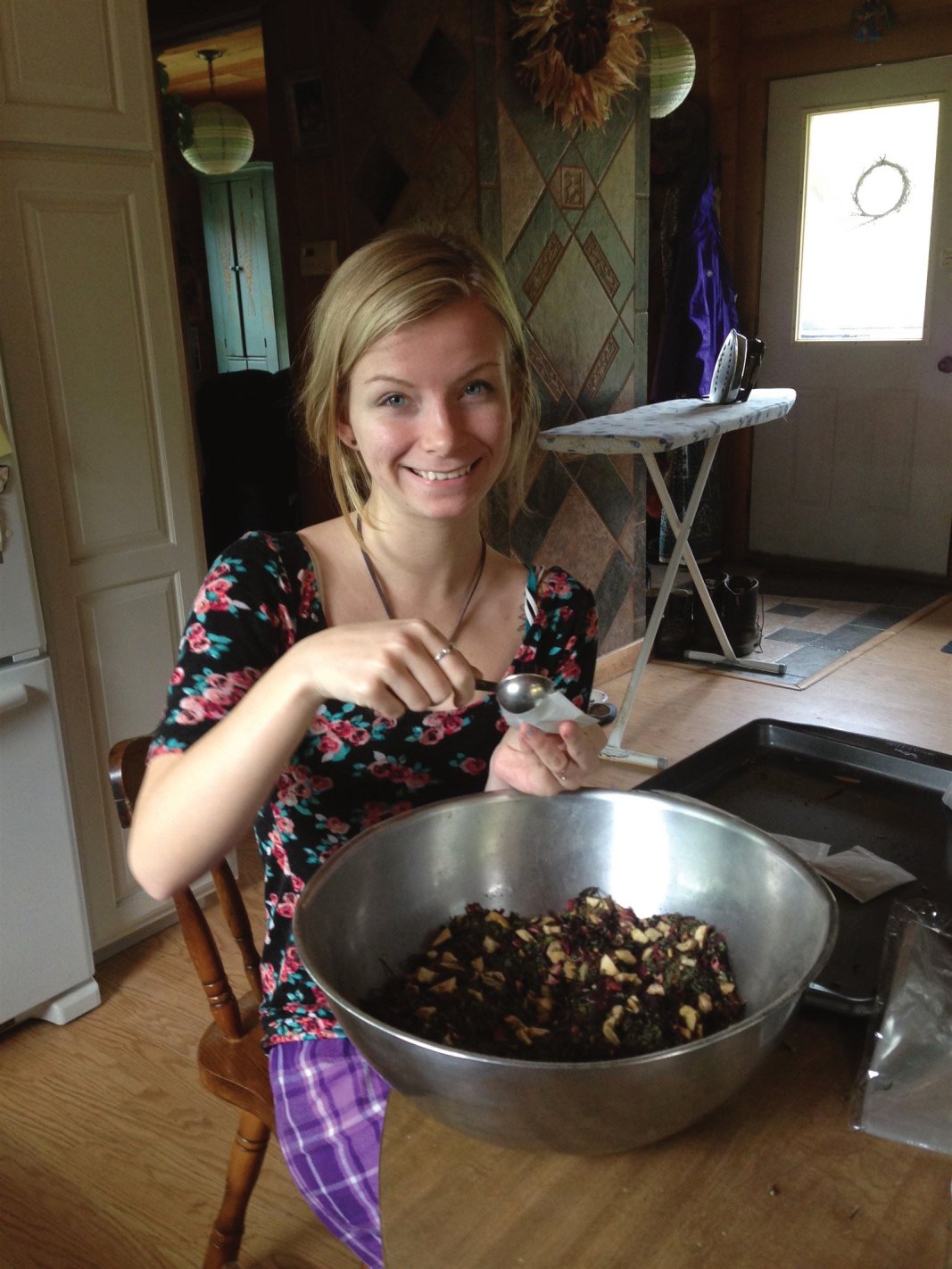 Cam has mixed up our Flavor of Fall tea and is busy filling bags and getting cans of tea ready to sell this fall.  Our Flavor of Fall tea is made with our farm grown mint and lemon balm and we add delicious hibiscus, mulling spices, and dried apples to create a wonderful taste sensation- so relaxing to sit and sip a hot cup of this tea on a cold fall day. This makes a great Vermont-grown gift for friends and family.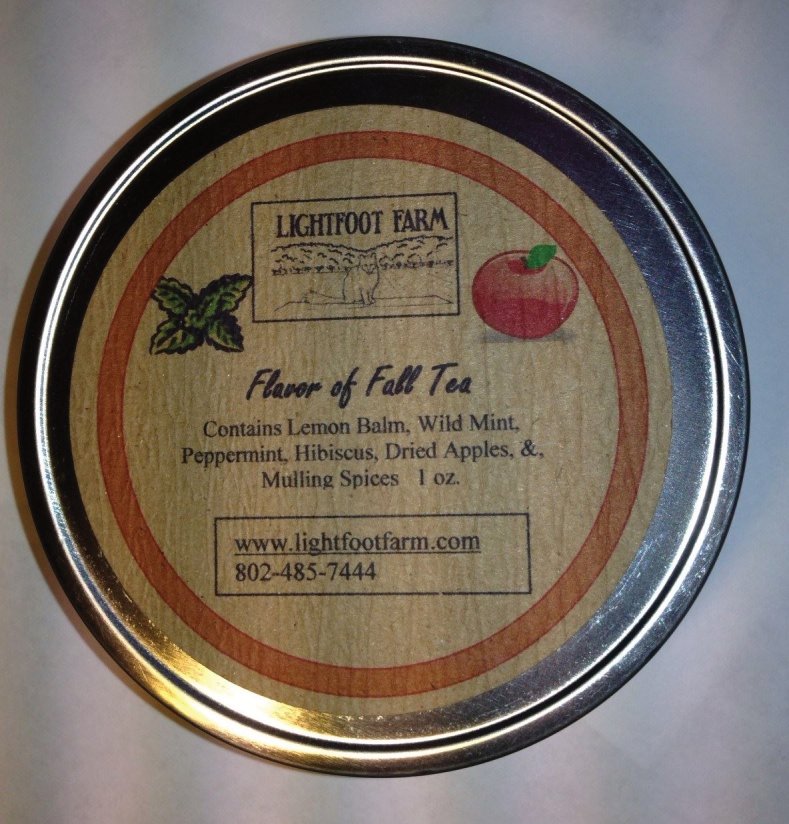 Introducing a new tea here at Lightfoot Farm, just for the fall. Flavor of Fall tea is made with our farm grown wild peppermint, wild mint, and lemon balm.  To this base we add hibiscus (southern grown), dried apples,  ground mulling spices and ground cinnamon sticks.
We recommend brewing the tea for a full 15 minutes to really bring out the flavor of the fall spices.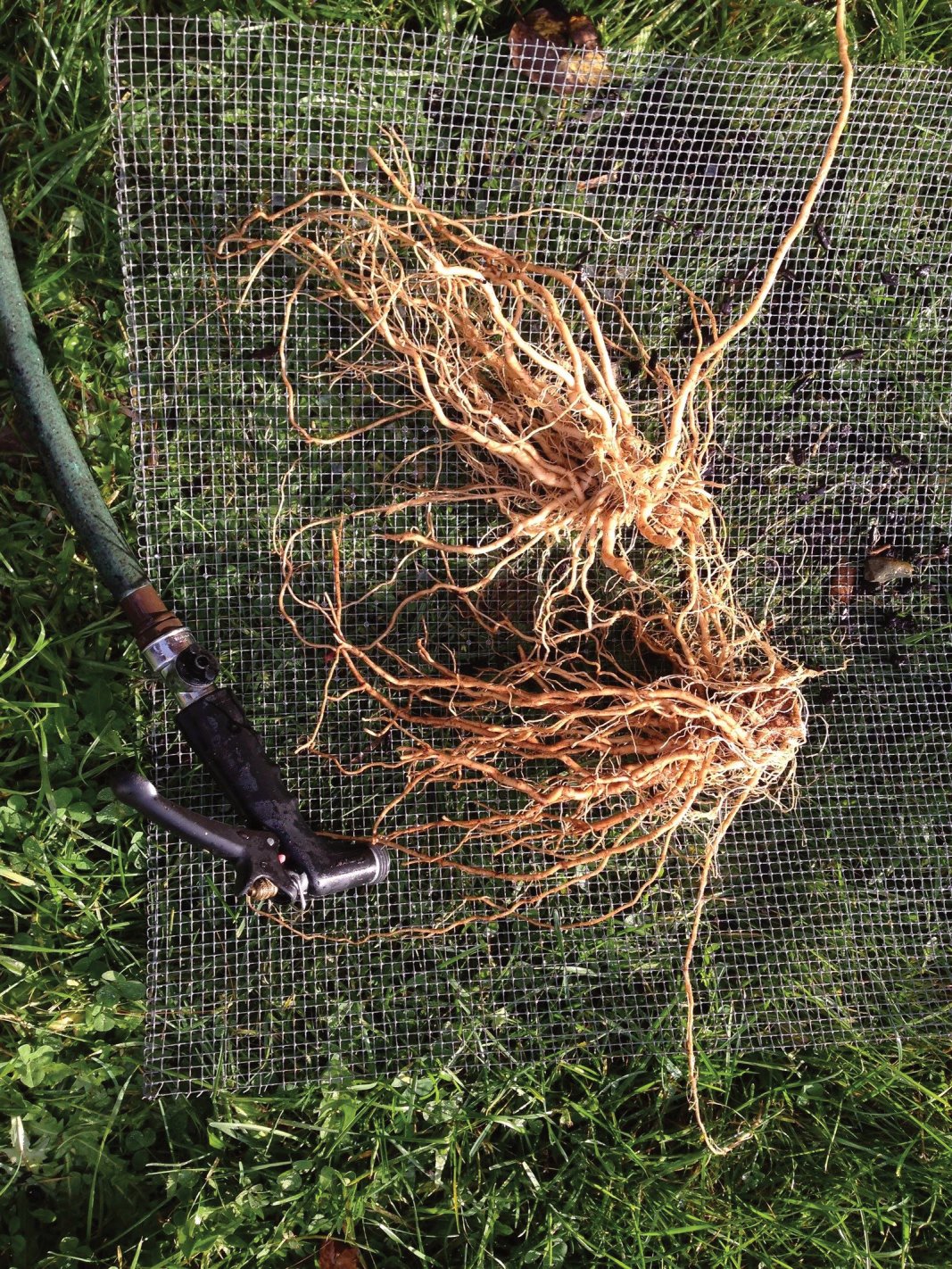 We just harvested Ashwaganda, washed the roots, and then chopped and dried them.  Soon we will have tins of Ashwaganda root tea for sale.
Ashwagandha (Withania somnifera) is in the Solanaceae family and the plant originated in India. It is also called Winter Cherry.   Ashwagandha is called an adaptogenic herb.  This is because the root is used to make a tea or powder that improves physical energy, increases immunity, and increases the vitality of those recovering from a chronic illness. It has also been used in pain management for rheumatoid arthritis.  The root has positive effects on the endocrine, cardio, and central nervous systems.  It is used to restore libido in males and it increases male fertility. Preliminary studies show that it helps to reduce the negative effects of stress, to slow tumor growth, to reduce cholesterol, and to reduce anxiety and help with sleep. It is also said to be good for fibromyalgia when mixed with Kava and Scullcap. Ashwagandha is also said to boost GABA and serotonin to help reduce anxiety.
How to make Ashwagandha Tea: Measure 3-6 grams of dried root.  Bring 3 1/2 cups of water to a boil and then immerse the dried root in the boiling water. Boil for 15 minutes and then strain the root and drink.  Drink 3 cups of Ashwagandha tea daily for best results.
Introducing a New Tea Here at Lightfoot Farm:  Time for Pause Tea
Time for Pause Tea is good for women in their menopausal years. It contains red clover flowers, nettle leaf, comfrey leaf, milky oats, and stevia.  Red clover is rich in isoflavones, chemicals that act like estrogens.  It may help with hot flashes, cardiovascular health and osteoporosis.  Studies so far  are inconclusive.  Red clover contains low levels of coumarins ,which thin the blood. This tea should not be used by individuals on the prescription medicine Warfarin (Coumadin). Nettles (
Urtica dioica
) have been known to help rehydrate vaginal tissues. They contain vitamins, minerals, proteins, and micronutrients that are nourishing for many functions in the body. They also are good to maintain healthy bones. Comfrey leaves are safe, according to herbalist Susan Weed (roots can cause liver damage). Comfrey is known to be good for vaginal lubrication, to strengthen bones, to soothe joint pain, and to improve mental functioning.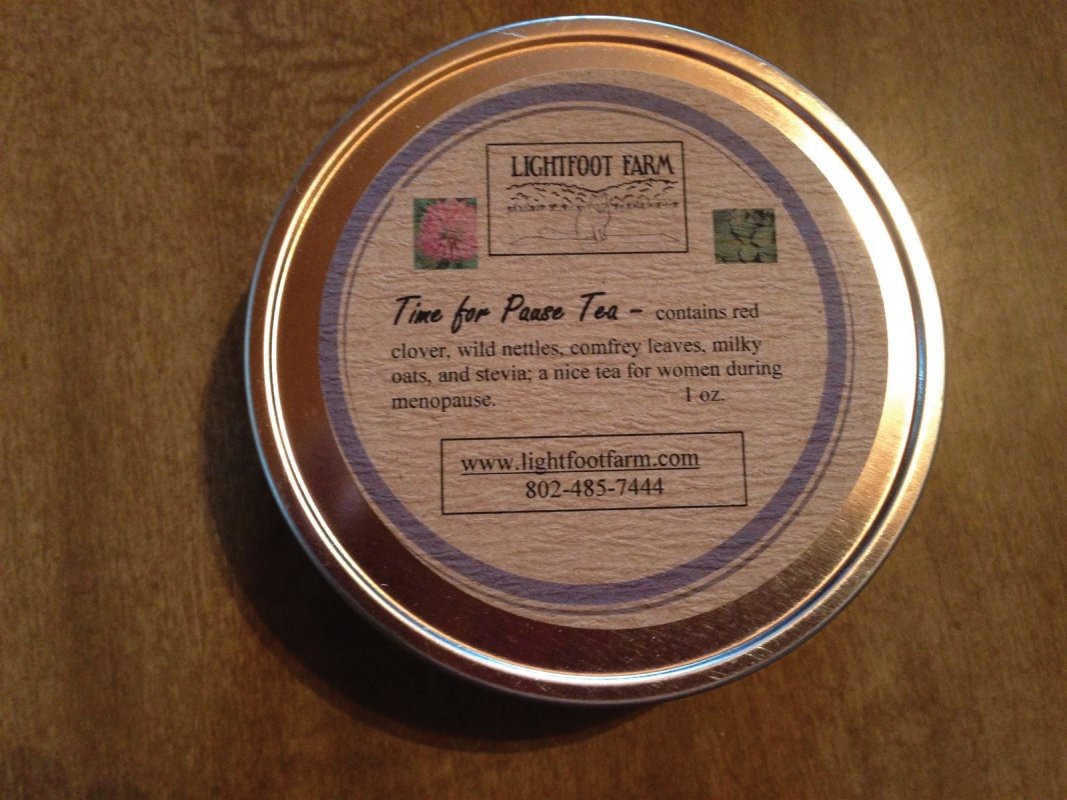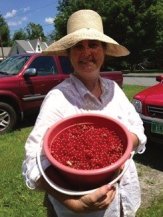 In this photo Jean has just finished picking some of the red currants that we use in the red currant jam at Lightfoot Farm. We are hoping to produce more red currants on the farm and have recently planted more bushes. The red currant is a member of the gooseberry family and the latin name for the genus is
Ribes.
Red currants have many health benefits.  They help to maintain a good balance of electrolytes. They are a good antioxidant and are rich in anthocyanins and proanthocyanin.  Red currants are benficial for diabetics and heart patients.  They also have blood cleansing and digestive properties (from www. onlyfoods.net).
Herbal Teas from Lightfoot Farm
Lightfoot Farm offers a selection of farm grown herbal teas grown here in Northfield, VT. We have four herbal teas in stock right now, Tulsi Tea, Wild Mint Tea, Lemon Balm Tea, and Special Tea.
Tulsi Tea
Tulsi Tea, also know as Holy Basil, is an annual herb. Owner Carol Noyes took a class on Herbal Adaptogens and learned about this herb at that time. Tulsi is known as an adaptogen, immunomodulator, antibacterial, antidepressant, antioxidant, and anti-viral.  Studies have shown tulsi to be useful in the treatment of diabetes as it reduces blood glucose levels.  It has also been show to reduce total cholesterol levels and shows some promise in protection from radiation poisoning and cataracts.  An adaptogenic herb is an herb that helps to regulate matabolism while helping a person to adapt to environmental stressors and to avoid damage from these stressors.  The stressors can be physical, chemical or psychological. Adaptogenic herbs increase ones resistance to stress.
Lemon Balm
Lemon Balm is a perennial herb in the mint family, Lamiaceae. The herbal tea can be used both hot and iced.  It is claimed to have antibacterial and antiviral properties (effective against herpes simplex) and it may also be used as a mild sedative or calming agent. Lemon Balm should not be used if one is on thyroid medication, such as thyroxine, as it may inhibit absorption of the medicine. Lemon Balm contains eugenol which kills bacteria and which has been shown to calm muscles and numb tissues.
Wild Mint Tea
Wild mint growing on the farm is harvested and dried to make this tea. It has a very nice, aromatic flavor.  Originally mint was used to treat stomach aches and chest pain.  Mint tea is a diuretic so if one uses it iced in the summer one may need to drink more water.  Mint has been used as a mild decongestant for illnesses such as the common cold. In fact menthol, a key ingredient in Vicks VapoRub, was originally obtained from mint oils but is now made synthetically. I sometimes put the dried mint leaves in a bowl of hot water and breath in the steam as I hold my head over the bowl, covering both the bowl and my head with a towel. This is a great home remedy to relieve nasal and sinus congestion.
Special-Tea
Special-tea is made up of a blend of dried lemon balm, lavender, skullcap (Mad dog), and stevia.  You don't need to add sweetener to this tea as the stevia provides natural sweetening. All three main ingredients in this tea have been known to have a mild sedative effect.  This tea may promote calmness and a sense of peace, allowing one to fall asleep easier at night.
The lavender in this tea is the cold-hardy Munstead variety. Lavender is said to be particularly beneficial to disorders of the nervous system.  It may help to calm a person who is nervous and anxious.  Lavender is also said to alleviate stress, upset stomach, and headaches.
The skullcap  is the Mad-dog variety, (Scutellaria laterifolia) a hardy perennial in Vermont. The plant is harvested just as it begins to flower and mainly leaves are used for the tea.  The leaves are high in flavonoids which are easily extracted by hot water and these compounds have an anti-oxidant effect. Mad-dog has been used as a mild sedative and sleep promoter. In a small, double blind, placebo-controlled study it was shown to have anxiety reducing effects. 
Stevia is in the sunflower family (Asteraceae) and is grown as an annual in Vermont.  Stevia has a negligible effect on blood glucose levels and is therefore a good choice as a natural sweetener for those who want to control carbohydrates in the diet.
/