Selling dried flower crafts, jams and jellies, herbal teas, maple syrup, and cbd salves.
New CBD Products for 2021​
Our CBD salve is made with our farm grown CBD hemp buds, infused in a base of organic coconut oil and organic sunflower lecithin. We add organic beeswax to the salves to keep them solid when temperatures rise in the summer. We began selling plain cbd salve in 2020, but for 2021 we have four different salves: plain, with essential oils, with arnica, and with St. John's wort. We use our wild harvested St. John's wort, farm grown arnica, and high quality essential oils, including peppermint, lemon, tea tree, and lavender oils when making the salve.​​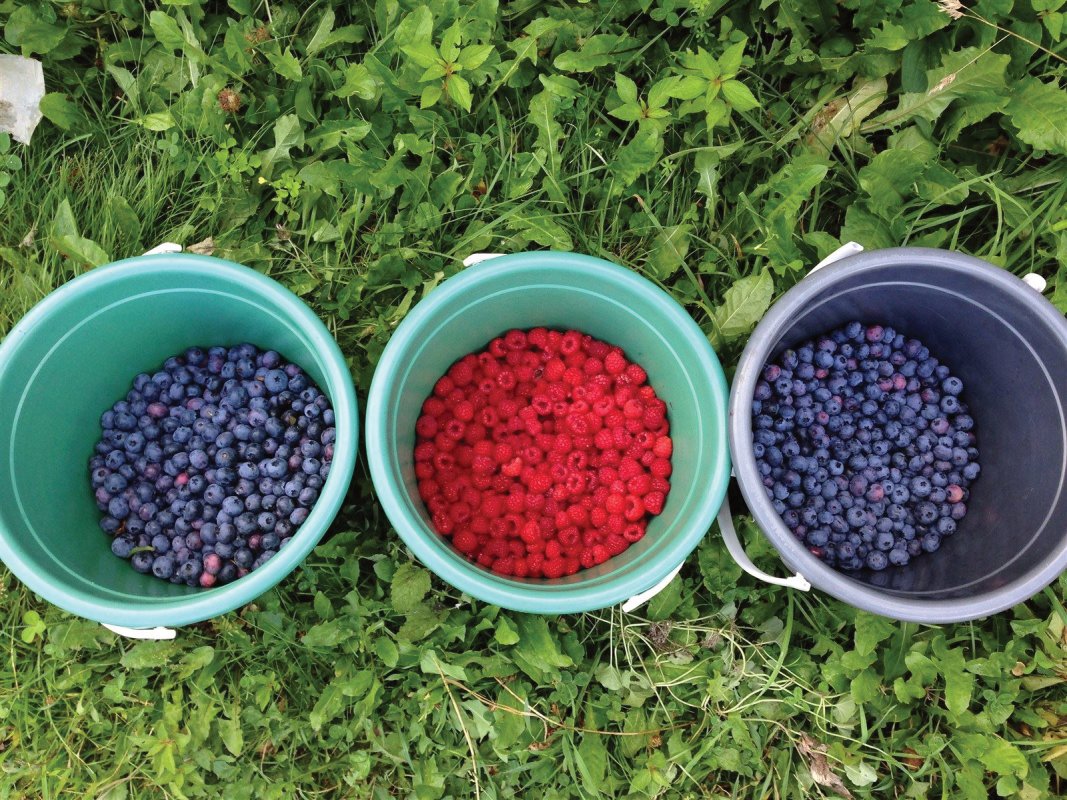 We are busy here at Lightfoot Farm picking blueberries, raspberries, and blackberries to make our new maple flavored jams.  We built a barn this year and tapped maple trees to produce our own syrup for the first time. Now we are combining our Vermont grown fruits with our maple syrup and the combination is a taste sensation.  We are still using our low sugar recipe.  We are all finished picking jostaberries, black currants, red currants, and Nanking cherries and have stocked our shelves with those jam flavors as well. For those unusual berries (the ones that we are finished picking and processing) we have only used maple syrup this year as the sweetener.  Red currant is the only unusual berry that is still available in the low glycemic version, sweetened with agave syrup.  This combination is especially good for those with diabetes.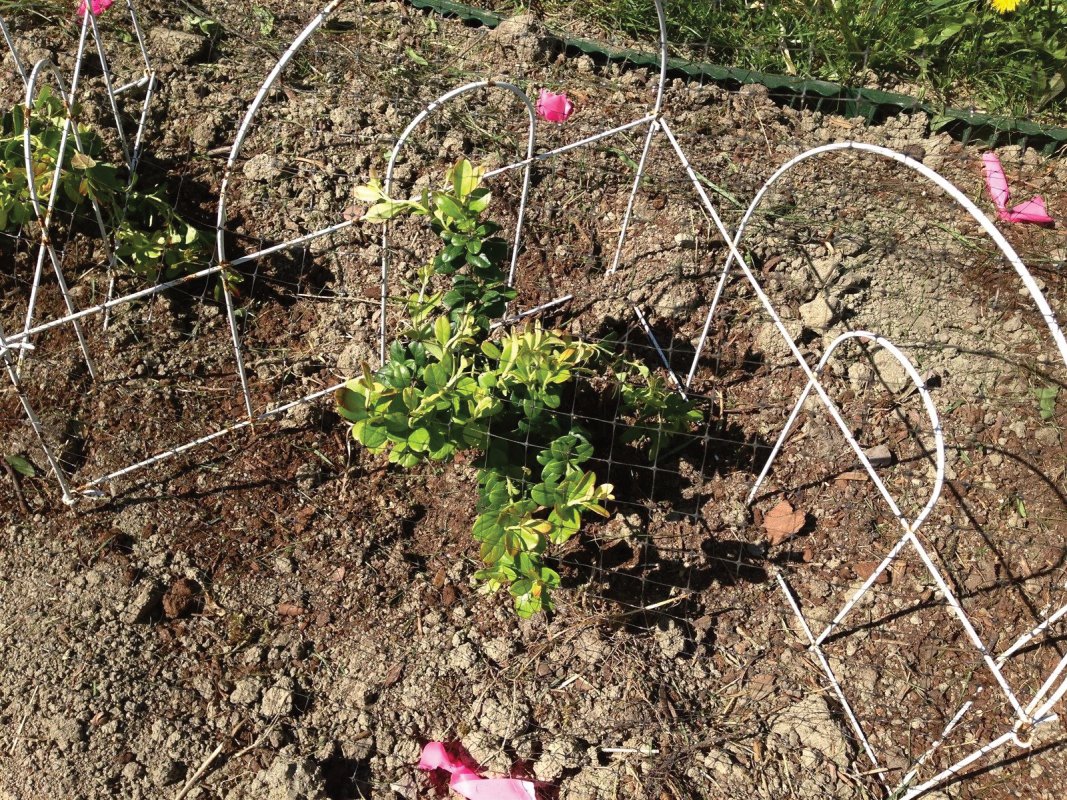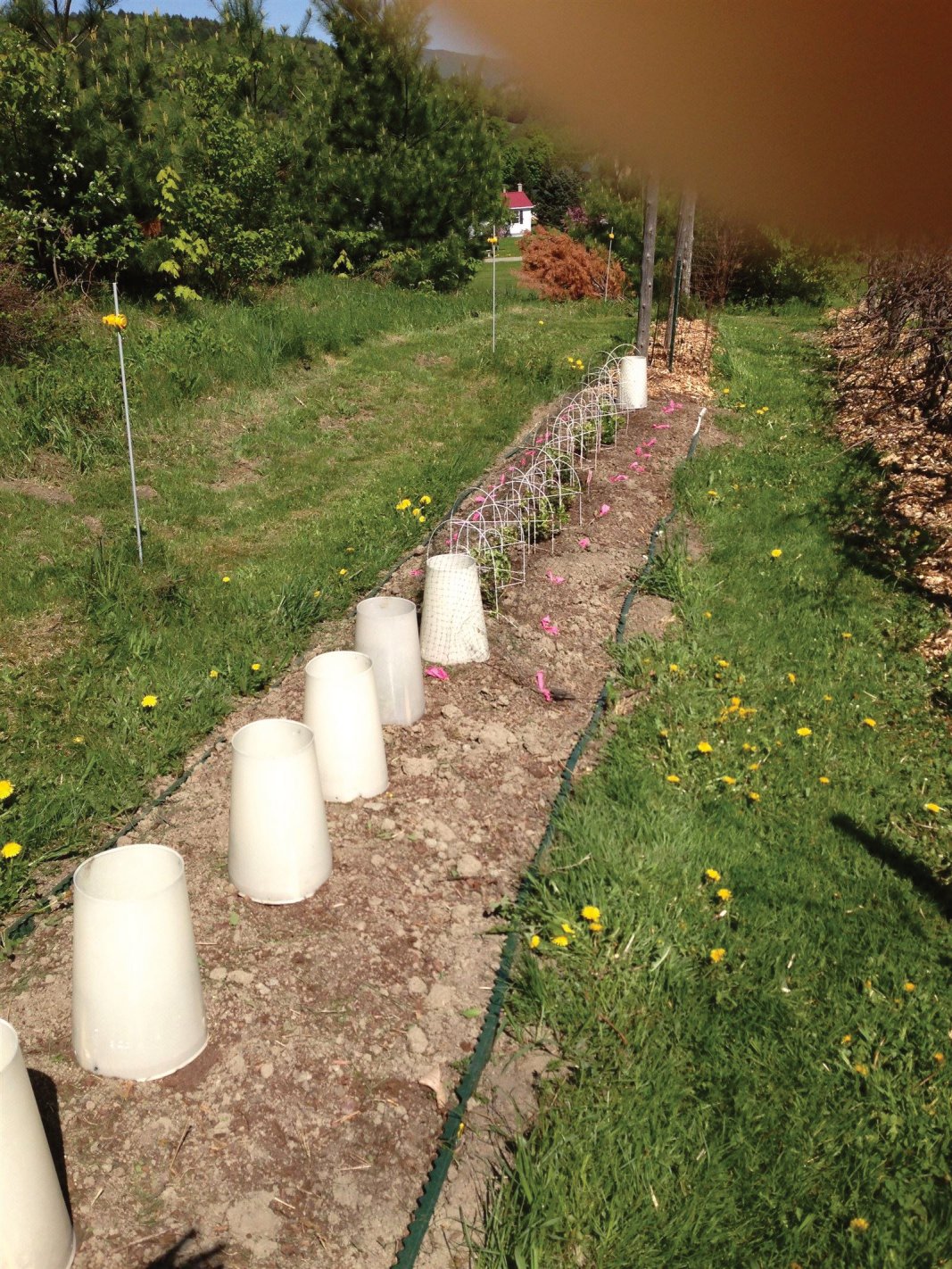 A new bed of Lingonberries was recently planted here at Lightfoot Farm. In a few years they will start producing berries to make jam and jelly. Dr. Oz recently placed lingonberries on the same level as blueberries for their healthful benefits. This is due to the antioxidants they contain, including quercetin. Lingonberries are commonly used in Scandina ian countries and look similar to cranberries.
Cones have been placed over some plants to prevent sunburn, to protect them from frost and foraging animals and to help them acclimate to Vermont, as they were shipped from the west coast. Some plants have been protected from animals with netting. Orchard management here at Lightfoot Farm is labor intensive.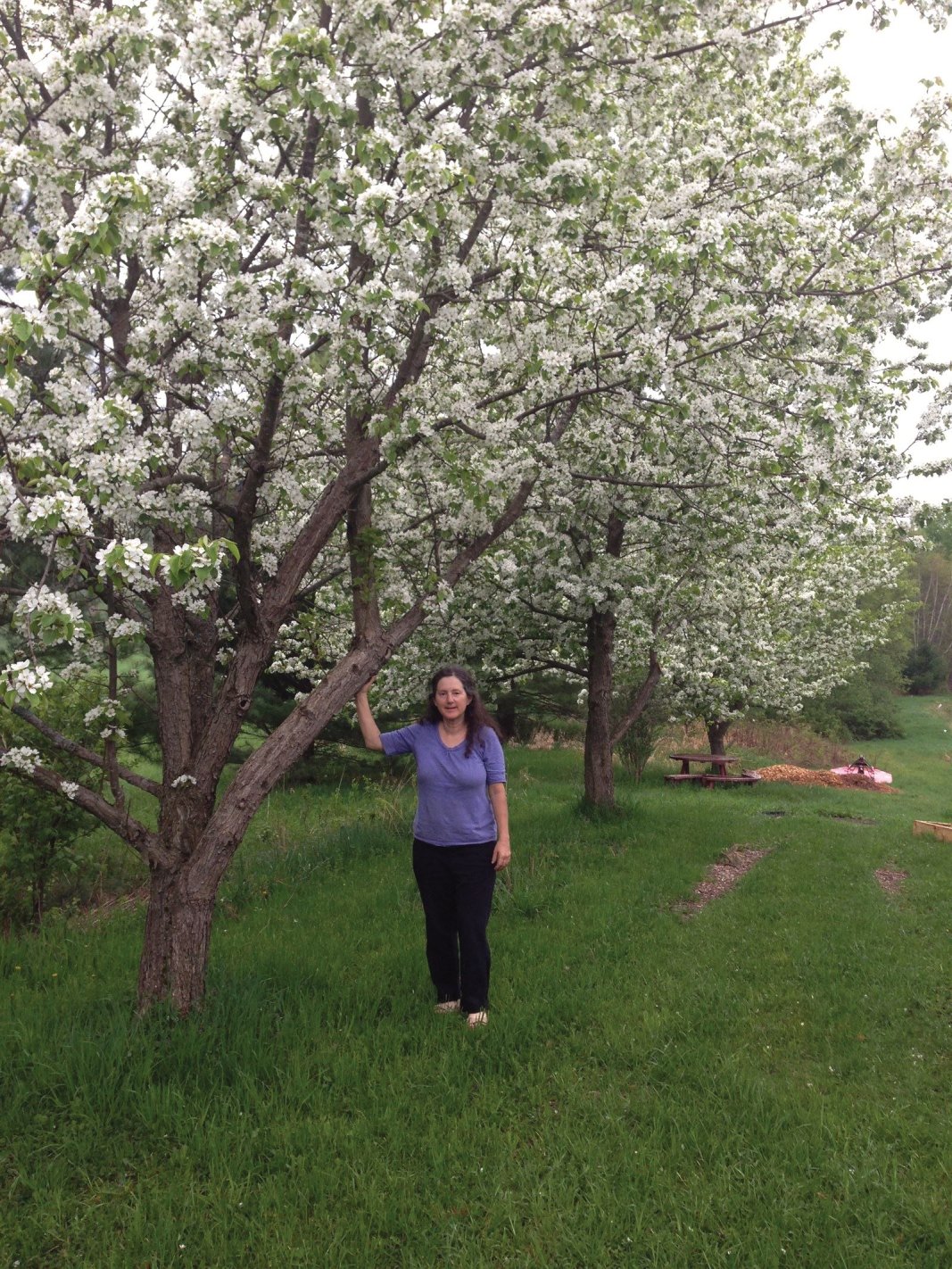 I planted the seeds for these Siberian pear trees around 1985 so they are about 28 years old now.  This is a photograph of me under the trees in full bloom, taken in early May in Northfield, VT. They are very hardy trees of
Pyrusussuriensis
and the fruits make a delicious pear jelly, although they are fairly astringent and not good to eat fresh.  The pears are small and of similar size and shape to a Seckel pear.  Here at Lightfoot Farm they are processed in a steam juicer to produce juice for making the jelly.
Jams and Jellies made with Farm Grown Fruits
All of the jams and jellies at Lightfoot Farm are made with farm grown fruits. This year was a good year for blueberries and grapes so jams made with these berries are the bulk of what is available right now.  All Lighfoot Farm jams and jellies are made with low-sugar recipes and sweetened with Vermont honey or with agave syrup. Using less sugar may decrease the loss of healthy anthocyanins from heat during processing (wholehealthmd.com). We at Lightfoot Farm believe that honey and agave syrup are better choices nutritionally than using refined table sugar. Regular pectin cannot be used with honey and agave syrup as the jam does not set well.  Instead we use Pomona pectin, which has a powdered source of calcium that is used along with the pectin to help it to set properly.
Honey Benefits
The sugar in honey is different and more gentle on blood sugar levels.  Honey has been found to keep levels of blood sugar fairly constant compared to other types of sugar. Honey has antioxidant and antibacterial properties and it is also an immune systembooster.
There is a 1:1 ration of fructose to glucose in honey.  Fructose "unlocks" the enzyme in the liver that is necessary to incorporate giucose into glycogen in the liver. Glycogen is the form of sugar stored in the liver. Glycogen stores are important to prevent the release of stress hormones adrenaline and cortisol (which the brain triggers when stores of glycogen are low).  In a year-long animal study comparing the effects of sucrose, honey, and low glycemic index (GI) sugar-free diet, rats on a honey-based diet showed reduced weight gain and % of body fat, decreased anxiety, better spatial recognition memory, improved HDL cholesterol,improved blood sugar levels, and reduced oxidative damage. Research in Israel found that honey boosts immunity.
From whfoods.com(honey)
Blue Agave Nectar
Blue agave nectar comes from the Agave americana and tequiliana plants grown in Mexico or South Africa. In Mexico the syrup is know as aguamiel or "honey water." The syrup has been touted as a good natural sugar for diabetics because it contains a high amount of fructose compared to glucose. It can have as high as 92% fructose and 8% glucose, but the average amount of fructose is 70%. The high amount of fructose gives it a much lower glycemic index than table sugar (sucrose). As with any sugar fructose should also be used in moderation.  Overuse of fructose can have negative effects on the body's health.
Blueberry Jam
Farm grown blueberries are harvested from July through early August and frozen to ensure a more even supply to make jam for the winter farmers' markets. The blueberries are not certified organic but they are fertilized with compost and natural acid fertilizer.  No insecticides are used on the plants. Nets must be placed over the plants during harvest time to prevent birds from eating all the berries. 
Berries and Your Brain (reprinted from Luminosity.com)

Summer in the Northern Hemisphere signals an influx of fresh berries. These seasonal fruits are more than just tasty: they may also be good for your brain and your long-term health.
Nutritionists have long touted the benefits of berries' high antioxidant levels. But now neuroscientists are also looking deeper into the mental benefits of consuming berries: a particular subclass of antioxidants found in berries, anthocyanidins, can cross the blood brain barrier and affect the brain.
In a 2012 article from Annals of Neurology, researchers investigated the effects of anthocyanidin-rich blueberries and strawberries over long periods of time.
Lifelong habits and brain health
Led by epidemiologist Elizabeth Devore, a team from Brigham and Women's Hospital analyzed data from 16,010 participants over a 25 year span.
Data was first collected in 1976, when female nurses aged 30-55 answered a battery of lifestyle questions (including questions on diet) and took 6 cognitive assessments. The nurses reanswered lifestyle questions every four years—and finally, starting in 1995, they retook the original cognitive assessments.
This data, collected at regular intervals over several decades, gave researchers valuable insight into how long-term lifestyle and diet choices could affect cognitive health
Diet can slow down decline
The average woman's cognition declined by 0.2 units every year that she aged (units measured by this study's standards).
But women who reported eating larger quantities of anthocyanidin-rich blueberries and strawberries slowed down cognitive decline in astonishing ways: by measures of cognitive performance, older women who ate more berries appeared to have delayed aging by 2.5 years!

Though the study was not conclusive—aside from relying on self-reported data, the study was unable to draw conclusions across different age groups and genders—it is an indication of how diet can positively impact brain health.
Berries and BPI
Two months ago, 12,000 Lumosity members participated in a science survey that asked, among other things, how many servings of berries they consumed each week. People who ate 1-3 servings of strawberries a month had significantly higher initial BPI scores than those who rarely or never ate strawberries—supporting the results from the 2012 study above.
Recent research and Lumosity's own surveys have revealed that diet, like cognitive training, can have an amazing positive effect on your life—but both require a long-term commitment. Studies suggest that a healthy dose of cognitive training, combined with good diet, can help your brain feel young and sharp even as you age. Why not unlock full access and fit a healthy training program into your life today?
(information reposted from July 10, 2012 newsletter from Luminosity. com)
/