Selling dried flower crafts, jams and jellies, herbal teas, maple syrup, and cbd salves.
New CBD Products for 2021​
Our CBD salve is made with our farm grown CBD hemp buds, infused in a base of organic coconut oil and organic sunflower lecithin. We add organic beeswax to the salves to keep them solid when temperatures rise in the summer. We began selling plain cbd salve in 2020, but for 2021 we have four different salves: plain, with essential oils, with arnica, and with St. John's wort. We use our wild harvested St. John's wort, farm grown arnica, and high quality essential oils, including peppermint, lemon, tea tree, and lavender oils when making the salve.​​
| | |
| --- | --- |
| Posted on January 25, 2014 at 10:26 AM | |
Introducing a New Tea Here at Lightfoot Farm:  Time for Pause Tea
Time for Pause Tea is good for women in their menopausal years. It contains red clover flowers, nettle leaf, comfrey leaf, milky oats, and stevia.  Red clover is rich in isoflavones, chemicals that act like estrogens.  It may help with hot flashes, cardiovascular health and osteoporosis.  Studies so far  are inconclusive.  Red clover contains low levels of coumarins ,which thin the blood. This tea should not be used by individuals on the prescription medicine Warfarin (Coumadin). Nettles (
Urtica dioica
) have been known to help rehydrate vaginal tissues. They contain vitamins, minerals, proteins, and micronutrients that are nourishing for many functions in the body. They also are good to maintain healthy bones. Comfrey leaves are safe, according to herbalist Susan Weed (roots can cause liver damage). Comfrey is known to be good for vaginal lubrication, to strengthen bones, to soothe joint pain, and to improve mental functioning.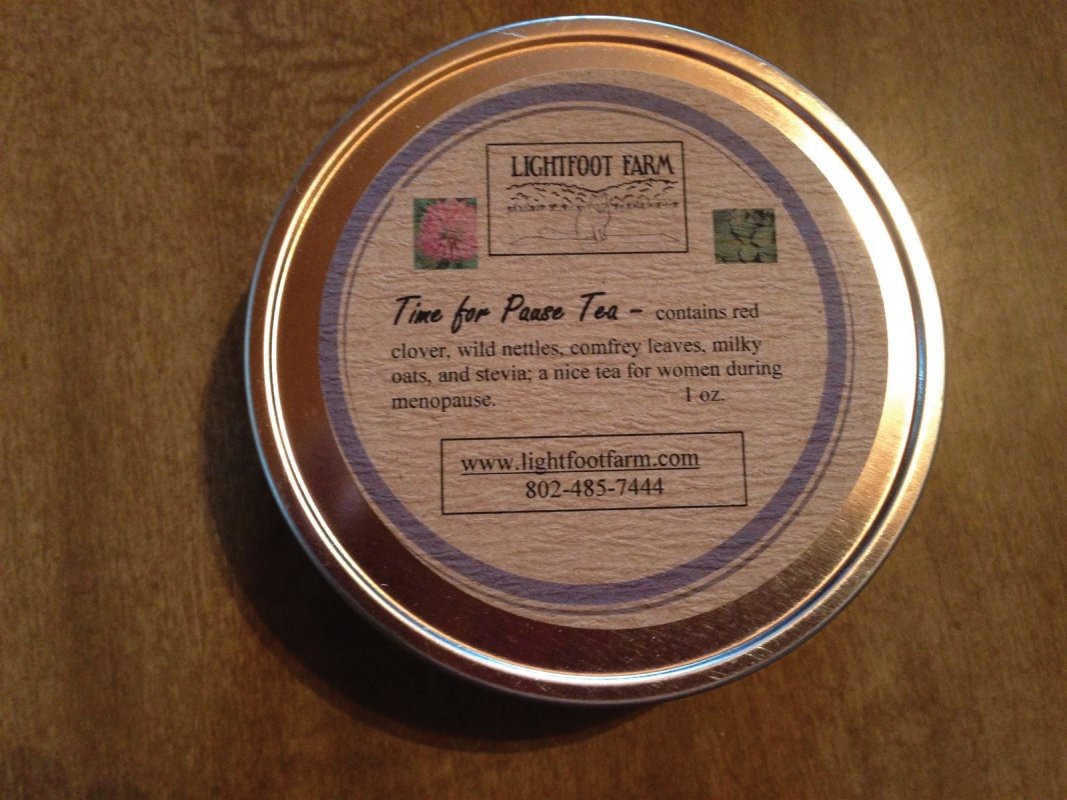 Categories: Product Information
/