Selling dried flower crafts, jams and jellies, herbal teas, maple syrup, and cbd salves.
New CBD Products for 2021​
Our CBD salve is made with our farm grown CBD hemp buds, infused in a base of organic coconut oil and organic sunflower lecithin. We add organic beeswax to the salves to keep them solid when temperatures rise in the summer. We began selling plain cbd salve in 2020, but for 2021 we have four different salves: plain, with essential oils, with arnica, and with St. John's wort. We use our wild harvested St. John's wort, farm grown arnica, and high quality essential oils, including peppermint, lemon, tea tree, and lavender oils when making the salve.​​
| | |
| --- | --- |
| Posted on February 26, 2020 at 1:05 PM | |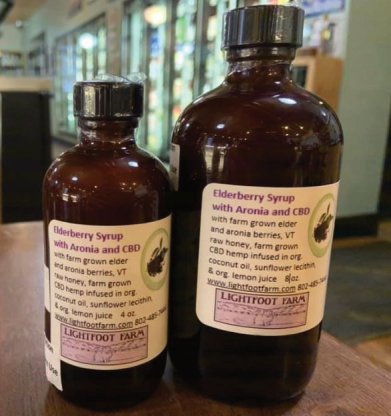 We are introducing CBD products this year.  We have Elderberry Syrup with Aronia and CBD, Full Spectrum CBD Salve, and Full Spectrum CBD Capsules. We make an oil infusion with our farm-grown, high cbd hemp buds and coconut oil and sunflower oil. Our oil infusion can be used directly as a salve, poured into capsules, or added to our fruit syrups. 
Sunflower lecithin allows for faster and better absorption of cannabinoids and may help to increase the effectiveness of CBD. Sunflower lecithin is allergen-free and safer to use than soy lecithin. Lecithin may help to improve memory and immunity to virus and bacteria.
Many companies remove the natural chlorophyll, derived from the hemp buds. We leave the chlorophyll in, as chlorophyll may improve digestion and may help reduce inflammation due to arthritis. 
Our high cbd hemp plants are grown outside, with natural sunlight, wind, and rain, to produce higher quality plants than those grown indoors under grow lights. Our hemp plants are grown in a soil that is enriched with compost and we use organic fertilizers throughout the growing season. Should there be a need to treat our plants for insect or disease, we would use only organic certified products. Our CBD products should not have the residual pesticides and fungicides you might find in other CBD products sourced from non-organic CBD growers. 
Categories: Product Information
/