Selling dried flower crafts, jams and jellies, herbal teas, maple syrup, and cbd salves.
During this pandemic we can ship or offer pickup in Northfield, VT; to place an order call 802-485-7444 or email: [email protected]; herbal teas can be ordered from our Etsy shop at https://etsy.com/shop/LightfootFarm; for pickup at the Moksha Farm in Northfield, VT on Wednesdays, beginning November 10, 5-6 pm, order online at Northfield Farmers' Market Eat From Farms winter platform: https://northfieldfm.eatfromfarms.com (FOR LOCAL DELIVERY ONLY)
New CBD Products for 2021​
Our CBD salve is made with our farm grown CBD hemp buds, infused in a base of organic coconut oil and organic sunflower lecithin. We add organic beeswax to the salves to keep them solid when temperatures rise in the summer. We began selling plain cbd salve in 2020, but for 2021 we have four different salves: plain, with essential oils, with arnica, and with St. John's wort. We use our wild harvested St. John's wort, farm grown arnica, and high quality essential oils, including peppermint, lemon, tea tree, and lavender oils when making the salve.​​
| | |
| --- | --- |
| Posted on August 13, 2013 at 8:44 PM | |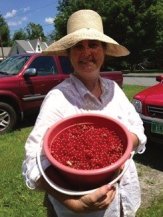 In this photo Jean has just finished picking some of the red currants that we use in the red currant jam at Lightfoot Farm. We are hoping to produce more red currants on the farm and have recently planted more bushes. The red currant is a member of the gooseberry family and the latin name for the genus is
Ribes.
Red currants have many health benefits.  They help to maintain a good balance of electrolytes. They are a good antioxidant and are rich in anthocyanins and proanthocyanin.  Red currants are benficial for diabetics and heart patients.  They also have blood cleansing and digestive properties (from www. onlyfoods.net).
Categories: Product Information
/